Human EGFR Gene Mutation Detection Kit
Epithelial Growth Factor Receptor (EGFR) is the expression product of the proto-oncogene HER-1. EGFR is mainly located in the cell membrane, dimerized after being activated by ligands such as EGF
---
Epithelial Growth Factor Receptor (EGFR) is the expression product of the proto-oncogene HER-1. EGFR is mainly located in the cell membrane, dimerized after being activated by ligands such as EGF, and triggers the production of tyrosine kinase activity in the intracellular segment, which further activates downstream signaling pathways and regulates various physiological processes such as cell growth and proliferation. Loss of the function of protein tyrosine kinases such as EGFR or the activity or abnormal cellular localization of key factors in related signaling pathways can cause tumors, diabetes, immunodeficiency and cardiovascular diseases.
The mitogen-activated protein kinase pathway (Ras/Raf/MEK/ERK-MAPK pathway) is one of the classic EGFR downstream signaling pathways. The genes involved in this pathway include EGFR, K-ras/N-ras/H-ras, B -raf, etc. The principle of action of molecularly targeted drugs developed for this signaling pathway is to inhibit the conduction of the signaling pathway through different targets, thereby achieving the purpose of inhibiting tumor proliferation.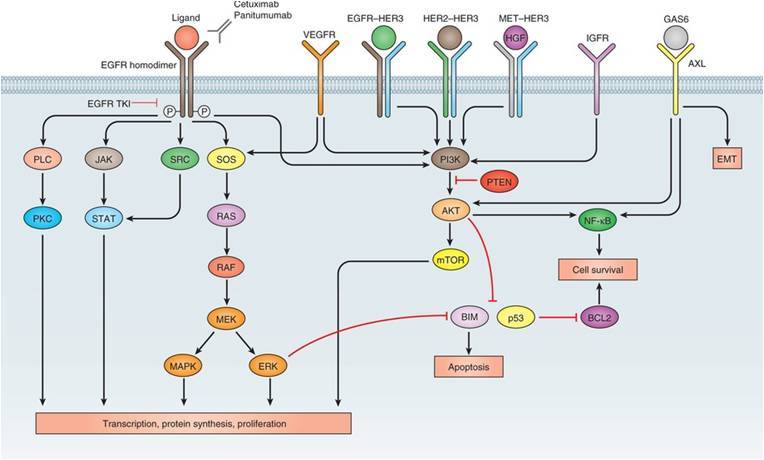 "2016 NCCN Guidelines for Non-Small Cell Lung Cancer" clearly pointed out that EGFR sensitive mutation sites include exon 18 (G719X), exon 19 (deletion of 19), exon 20 (S768I) and exon 21 (L858R, L861Q), EGFR-TKIs such as gefitinib, erlotinib, and afatinib are recommended for non-small cell lung cancer patients with such mutation sites. The drug resistance mutation sites of EGFR include the T790M mutation on exon 20 and the 20 insertion site. EGFR-TKIs are not recommended for patients with negative EGFR gene test or carrying drug resistance sites. Whether patients with adenocarcinoma, large cell carcinoma or squamous cell carcinoma, must be tested for EGFR gene status before taking EGFR-TKIs such as gefitinib and erlotinib. The mutation rate of EGFR gene mutation in adenocarcinoma, female, non-smoker and Asian population is about 50%, which has clear guiding significance for the targeted drug therapy of non-small cell lung cancer patients in my country.
This kit detects 30 mutation types (G719X, 19del, S768I, T790M, 20ins, L858R, L861Q) on the EGFR gene, and is used to assist clinicians in screening who can benefit from gefitinib, erlotinib and icotinib EGFR-TKIs and other non-small cell lung cancer patients.
Applicable models
ABI7300/7500/stepone/steponeplus/viia7、Cobas LC480、StrataGene Mx3005P/3000P、 BioRad CFX96、SLAN-96S
This product has been approved by my country's CFDA
Registration certificate number: National Machinery Note 20173404737