2016 Academic Annual Meeting of Laboratory Medicine Branch of Hubei Medical Association
---
The "Hubei Medical Association Laboratory Medicine Branch 2016 Academic Annual Meeting" hosted by the Laboratory Medicine Branch of Hubei Medical Association will be held on December 7-9, 2016 at Zhongnan Garden Hotel (Wuluo Road T-shaped Bridge Intersection), Guangzhou Military District, Wuchang District, Wuhan City held. The Hubei Medical Association is a mass academic organization of medical science and technology workers, a local organization of the Chinese Medical Association, and is in charge of the Hubei Provincial Health and Family Planning Commission. The responsibilities of Hubei Medical Association are to carry out academic exchanges in medical science and technology; carry out medical science and technology decision-making demonstrations, select and reward outstanding medical science and technology achievements, academic papers and popular science works; discover, recommend and train outstanding medical science and technology talents; undertake medical malpractice technical appraisal; undertake Tasks entrusted by the government and relevant departments; to promote the transformation and application of medical scientific research results. Wuhan Hijili Technology Co., Ltd., as a high-tech enterprise focusing on the field of precision medicine, will participate in the conference with a variety of main products independently developed, and gather in Wuhan with friends from all walks of life in the industry to seek common development.
Wuhan Haijili Biotechnology Co., Ltd. was established in Wuhan Optics Valley Biological City in 2010. It has the qualification of "Hubei Engineering Research Center for Translational Medicine of Tumor and Hereditary Diseases", and is the undertaking unit of the National Development and Reform Commission's National Strategic Emerging Industry Regional Cluster Development Pilot Project , has won the fund projects of the Ministry of Science and Technology of the People's Republic of China and the Science and Technology Department of Hubei Province for many times. A number of products independently developed by Hijiri have been certified by CFDA, including "ACTC Circulating Tumor Cell Detection Kit", "Human EGFR Gene Mutation Detection Kit", "Human K-ras Gene 7 Mutation Detection Kit", "CYP2C9 and VKORC1 Gene" Polymorphism Detection Kit" and "CYP2C19 Gene Polymorphism Detection Kit", etc.
Conference Information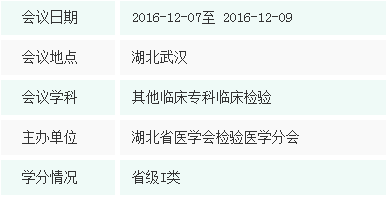 meeting content
1. The working meeting of all members of the Laboratory Medicine Branch of Hubei Medical Association (time: 19:30-20:30 on December 7; location: hotel conference room).
2. Lectures at academic conferences.
3. Each person shall pay a conference fee of 500 yuan (including conference materials), and the transportation and accommodation expenses shall be borne by themselves.
4. This meeting has been included in the 2016 Hubei Continuing Medical Education Project (No.: 2016-11-01-002). All delegates who register to participate in the conference will receive 4 credits of provincial category I continuing education. Please register delegates with medical cards to record credits.
5. Registration time: December 7, 2016 (9:00~21:00)
6. Check-in address: Zhongnan Garden Hotel, Guangzhou Military District, Wuchang District, Wuhan City (Wuluo Road T-shaped Bridge Intersection)