Wonderful replay丨Big coffee talks about molecules first, MTHFR gene detection helps prenatal and postnatal care
---
On July 28, Wuhan Hijili Bio invited Professor Sun Fenyong, Vice President of Shanghai Tenth People's Hospital, as a guest in the molecular live broadcast room, and brought you a keynote speech on "Application of MTHFR Gene Detection in Clinic".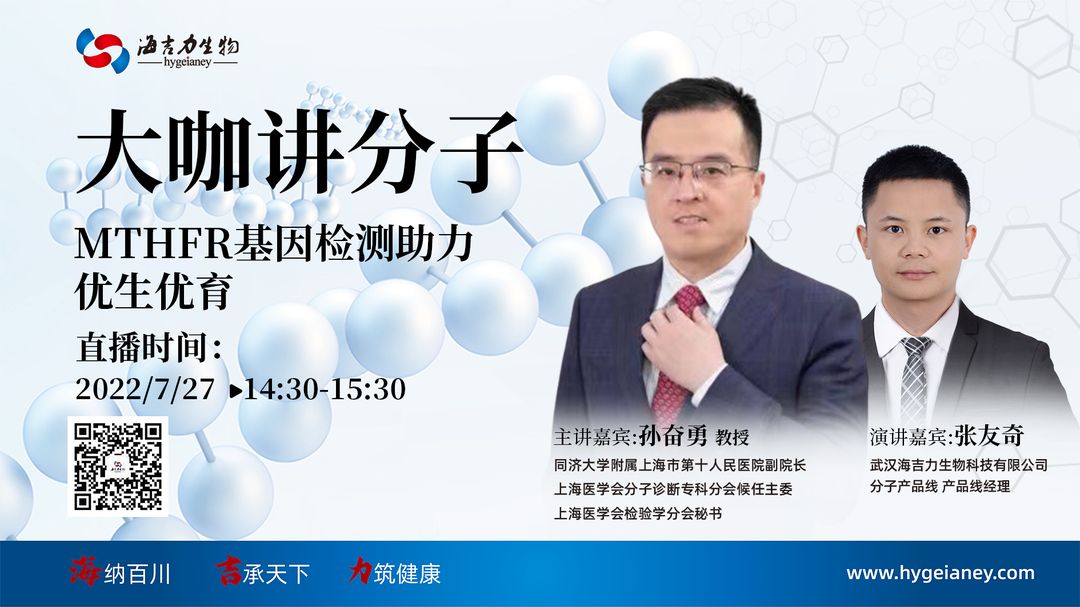 Big Coffee Talks Molecules is a public welfare platform sponsored by Wuhan Hijili Biotechnology Co., Ltd., which aims to spread ideas, popularize advanced technologies, and serve the needs of the public.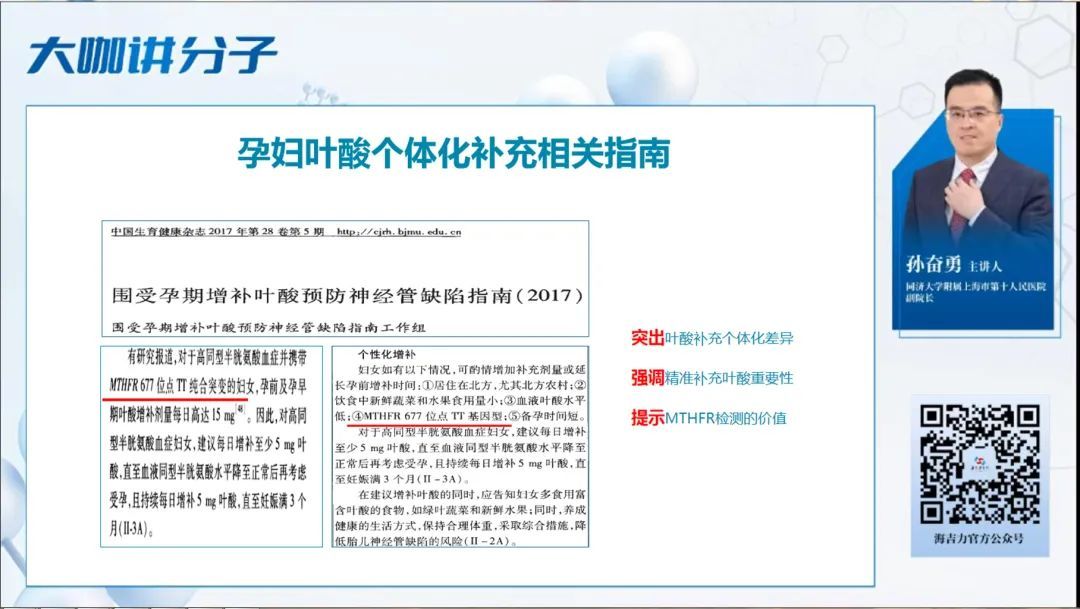 MTHFR is an important enzyme involved in the metabolism of folic acid cycle. It is related to DNA synthesis and methylation. About 75% of pregnant women have a normal MTHFR gene. Therefore, a daily dose of 400 micrograms of folic acid in the first trimester can ensure that the fetal neural tube is normal. Development, normal production of neurotransmitters, normal development of intelligence.
But 25% of pregnant women have a mutation in the MTHFR gene, which causes two changes in the MTHFR enzyme in the body: partial loss of function and almost complete loss of function, which directly affects the conversion of folic acid in the body.
According to the type of MTHFR gene, scientific customization of the folic acid supplementation dose for each person is the kingly way. Combined with the MTHFR metabolic gene detection, the metabolic status of human folic acid can be accurately judged from the gene pathway, which has very important guiding significance for folic acid supplementation.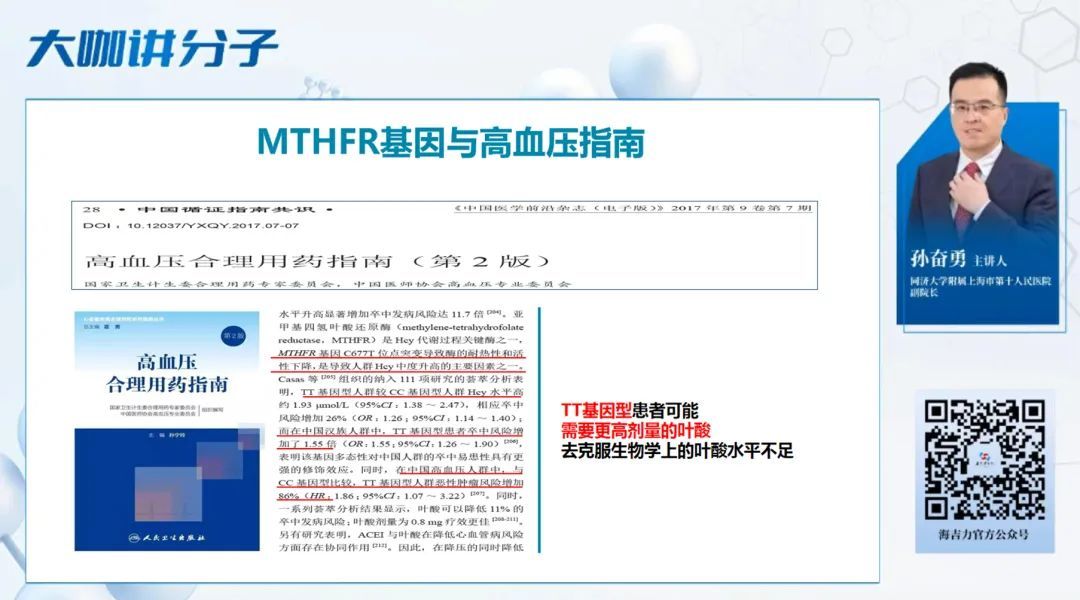 Folic acid plays an extremely important role in the treatment of hyperhomocysteinemia, and hypertension with elevated homocysteine is called H-type hypertension. At present, there is no specific drug for the disease. Generally, folic acid, vitamin B6 and vitamin B12 are used to control the concentration of plasma homocysteine. The supplementation of folic acid can promote homocysteine metabolism and reduce the level of homocysteine in the blood, so as to achieve the purpose of preventing and treating cardiovascular and cerebrovascular events.
Groups with higher homocysteine content did not decrease the level of folic acid when supplementing. In this case, the reason is that the metabolism of folic acid to 5-methyltetrahydrofolate is impaired, and folic acid enters the human body. Afterwards, it cannot be efficiently metabolized into enzymatically active products, so it cannot further promote homocysteine metabolism.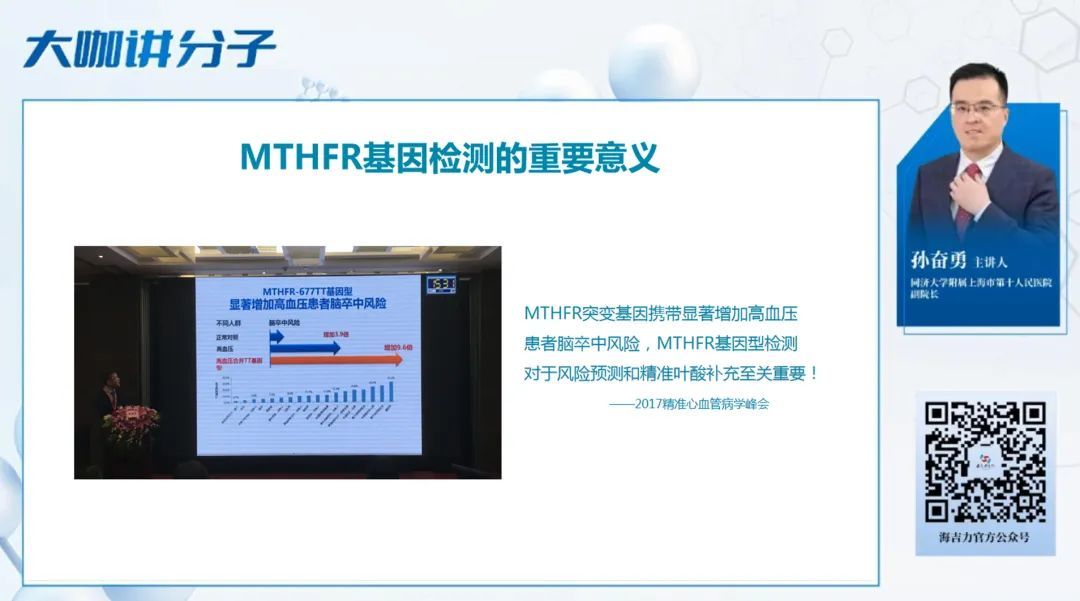 Folic acid needs to be metabolized into 5-methyltetrahydrofolate under the action of MTHFR in order to play its role of providing methyl groups. MTHFR is a key enzyme in the process of folic acid metabolism. It can convert 5,10-methylenetetrahydrofolate into L-5-methyltetrahydrofolate. L-5-methyltetrahydrofolate makes the Homocysteine in the blood remains at normal levels. The increase of homocysteine content can easily cause vascular endothelial injury and venous thrombosis. Hyperhomocysteinemia occurs in 20% of patients with heart disease. Among pregnant women with recurrent miscarriages, 30% have hyperhomocysteinemia. It can also affect ovarian function in women; affect sperm motility in men; it is one of the risk factors for pregnancy-induced hypertension; it is one of the risk factors for placental vascular disease; it is easy to cause cardiovascular and cerebrovascular diseases, vascular endothelial damage, and increased risk of thrombosis.
About Professor Sun Fenyong's guest lecture on molecules, he gave a keynote speech on "Application of MTHFR Gene Detection in Clinic". We have uploaded the live recording, please click below to review it.